I love my calling, I really do.
When I was first given the assignment to be the primary chorister (the person who teaches the children music) I was a bit nervous about it. It took me a while to find my own rhythm and my own method of doing things.
I feel like I'm finally beginning to know the kids and how to most effectively teach them.
I graduated college with an elementary teaching degree. However, since my graduation, I've become a stay-at-home mom, and thus haven't been able to utilize a lot of the things I have learned. Some of it, I've done in my own home, and I've become a lot better at discipline, but a lot of the things are methods for teaching a large group of children.
I'm grateful to my Heavenly Father for the opportunity I've been given to use my talents and to stay practiced in my major.
The kids in my primary are amazing. They try so hard, and I feel like they are pretty self-motivated. Yesterday, I had them come up to the board to draw pictures to illustrate the song we were learning and they tried so hard to be reverent and to sing their best. After I felt we had the words down pretty well, we played a game of hot and cold.
Hot and cold is where I have one of the children hide an item (in this case, a vibrating lobster), and another child goes outside of the room while they do so. Then, once the first child has finished, they return to their seat and the second child comes back in. They then search for the item, and all the children sing louder or softer depending on how close the second child is getting to the item. The closer they get, the louder everyone else sings, and the farther away they get, the quieter everyone is.
They sang so well, and the Spirit was there. Even my little three-year-olds were trying their hardest.
We learned a song about faith. Faith is so important to learn early on in life. In the Church of Jesus Christ of Latter-day Saints, we believe that (
Alma 32:21
) "
faith
is not to have a perfect knowledge of things; therefore if ye have
faith
ye hope for things which are not seen, which are true."
This life can be pretty turbulent at times. Sometimes when the storms of doubt and distraction rage around us, it is nice to be able to focus on the lessons that I learned as a child. The simplicity of the gospel of Jesus Christ can and does bring us peace in the midst of the chaos that surrounds us.
I was reading in the
Teachings of Presidents of the Church: Howard W. Hunter
manual, which is what they are studying in Sunday school this year, and I found the following
quote
from a general conference talk given back in 1969:
… Indifference to the Savior or failure to keep the commandments of God brings about insecurity, inner turmoil, and contention. These are the opposite of peace. Peace can come to an individual only by an unconditional surrender—surrender to him who is the Prince of peace, who has the power to confer peace.10

The troubles of the world often expressed in screaming headlines should remind us to seek for the peace that comes from living the simple principles of the gospel of Christ. The vociferous minorities will not unsettle our peace of soul if we love our fellowmen and have faith in the atoning sacrifice of the Savior and the quiet assurance he gives of life everlasting. Where do we find such faith in a troubled world? The Lord said, "Ask, and it shall be given you; seek, and ye shall find; knock, and it shall be opened unto you. For every one that asketh receiveth; and he that seeketh findeth; and to him that knocketh it shall be opened." (Luke 11:9–10.)11
...

One may live in beautiful and peaceful surroundings but, because of inner dissension and discord, be in a state of constant turmoil. On the other hand, one may be in the midst of utter destruction and the bloodshed of war and yet have the serenity of unspeakable peace. If we look to man and the ways of the world, we will find turmoil and confusion. If we will but turn to God, we will find peace for the restless soul. This was made clear by the words of the Savior: "In the world ye shall have tribulation" (

John 16:33

); and in his bequest to the Twelve and to all mankind, he said, "Peace I leave with you, my peace I give unto you: not as the world giveth. …" (

John 14:27

.)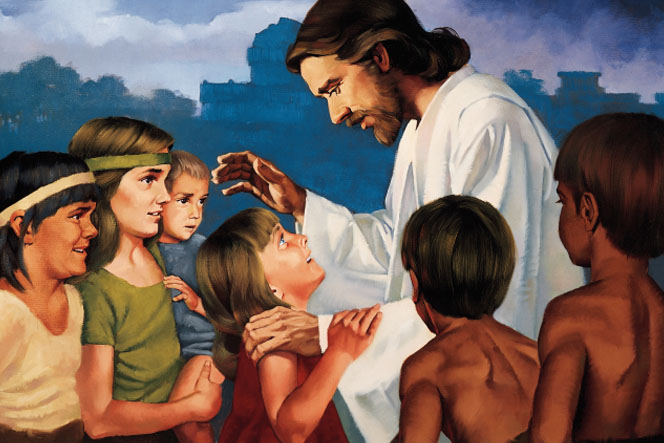 That really hit me yesterday. Sometimes, I do feel buffeted by the events that are occurring in the world right now, but when I focus on the Savior and the little things like faith, hope, and charity, my soul is comforted and peaceful. I remember that the Savior has power over all things, and if I'm on his side, my family and I will be okay, and I'll be able to be with my family forever; regardless of what happens in this life.
As I do my best in my calling and have lived the principles that I've been taught, I have been blessed with more peace and a stronger testimony of the gospel of Jesus Christ.
I truly believe and know that the Church of Jesus Christ of Latter-day Saints is His church on this earth.
That is my solemn witness in the name of Jesus Christ, amen.