Suicide is a difficult topic in our society.
Often, people condemn those who've committed suicide to hell or damnation, and this can be very difficult for those who knew and loved the people who chose to take their lives. We want the best for them, and often the suicide occurred because of very difficult and misunderstood circumstances.
In the Church of Jesus Christ of Latter-day Saints, we are grateful that we are not the one who will be judging at the last days. I have been thinking about suicide quite a bit lately, because I have had some friends who have lost family because of it. However, tonight, as I was studying, I found a very comforting article by Elder Russell M. Nelson. It's called
Suicide: Some Things We Know, and Some Things We Do Not.
This is a talk given back in 1987, but it is as true today as it was then. If anyone you know is suffering from the loss of someone who has committed suicide, I would recommend reading it. It is a talk of hope.
Elder Nelson makes the point that although the taking of human life, including our own, is a sin, the prophets have NEVER stated where such souls will end up. The Lord does hold us accountable for our own choices, but he is also a kind and just God who understands the circumstances of our decisions in ways that we simply cannot.
Many people who choose to commit suicide are suffering from chemical imbalances and other extraneous circumstances. It is hard to say how much control they really have in the end. Suicide is a tragedy, both for those who leave this earth prematurely, and especially for those who are left behind.
I also read another article tonight about a mother whose son committed suicide. It was called
Sustained by God's Love.
One of the things that really helped the mother feel loved and comforted after her son's death was the fact that no one in her congregation condemned her son. They simply showed love and did their best to serve them at that challenging time.
Instead of being judgmental toward those who have committed suicide, we should do our best to comfort the families that are left behind. I think telling people that their son/daughter/father/mother/other family member/friend who died is going to hell is akin to taking a knife in someone's back and twisting it around and digging deeper. They already have a gaping wound. We don't need to make it worse.
We are never asked to judge whether people are going to heaven or hell. That judgement is reserved alone for the Lord. Instead, we are told to love one another, and to do our best to help others be happy.
In one portion of Elder Nelson's talk, he quoted President Joseph Smith who said:
"While one portion of the human race is judging and condemning the other without mercy, the Great Parent of the universe looks upon the whole of the human family with a fatherly care and paternal regard. … He is a wise Lawgiver, and will judge all men, not according to the narrow, contracted notions of men, but, 'according to the deeds done in the body whether they be good or evil,' or whether these deeds were done in England, America, Spain, Turkey, or India. … We need not doubt the wisdom and intelligence of the Great Jehovah; He will award judgment or mercy to all nations according to their several deserts, their means of obtaining intelligence, the laws by which they are governed, the facilities afforded them of obtaining correct information, and His inscrutable designs in relation to the human family; and when the designs of God shall be made manifest, and the curtain of futurity be withdrawn, we shall all of us eventually have to confess that the Judge of all the earth has done right." (

Teachings of the Prophet Joseph Smith,

ed. Joseph Fielding Smith, Salt Lake City: Deseret Book Co., 1938, p. 218.)
The death of a loved one is a tragedy and everyone experiences grief in different ways. Listen to those who are suffering. Even after a few weeks or months, they are probably still struggling with it. Everyone deals with sorrow in their own way and time. It is not our place to tell them when they should be "over it." Really, they probably never will be.
I know I wouldn't be.
Personally, I have been blessed to not yet experience personal loss. The thought of losing any of my family members terrifies me. Even understanding the Lord's
Plan of Salvation
, and knowing that their is life after death and I can see my family again, I am unprepared for the separation.
However, I also know that when the time comes that my family members leave this earth, I know the Lord will give me strength where I have none, and peace that will help me keep going. The Lord loves all of His children, and He will judge each of us perfectly so that we can be in the place that will bring us the most comfort and joy.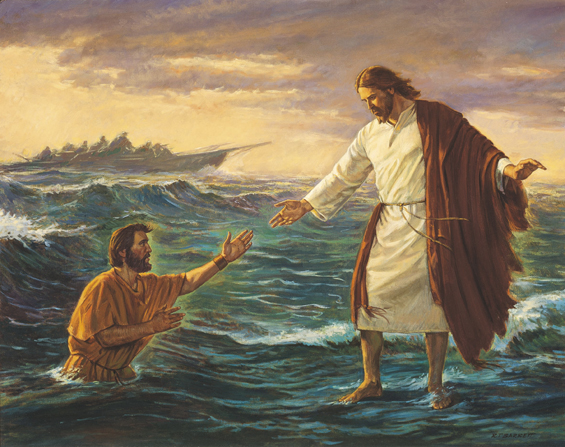 Elder Nelson ended his talk with these words:
As I think about the worry and agony of those whose loved one has taken his or her own life, I find deep comfort and faith in the Lord's promise and blessing to us who remain in mortality: "Peace I leave with you, my peace I give unto you: not as the world giveth, give I unto you. Let not your heart be troubled, neither let it be afraid." (

John 14:27

.)
I pray that those who have lost loved ones to this terrible tragedy will find comfort and joy in Christ. He can help you through any trial, and give you the strength to move forward. We pray for you and your families as you continue to do your best to continue on, when the future seems so dark. We love you, and wish you peace and joy in the memories of those who are gone.
They will live again.
I know this is true.