So, I decided to start a new section on this blog.
Sometimes it is hard to have age appropriate activities for a toddler in family home evening. So, I decided I actually need to sit down and plan the activities and lessons before hand. I keep reading things about how I need to be teaching my son the gospel. In a recent talk by Elder Nelson titled "
The Sabbath is a Delight
," he said:
We make the Sabbath a delight when we teach the gospel to our children. Our responsibility as parents is abundantly clear. The Lord said, "Inasmuch as parents have children in Zion … that teach them

not

to understand the doctrine of repentance, faith in Christ the Son of the living God, and of baptism and the gift of the Holy Ghost by the laying on of the hands, when eight years old, the sin be upon the heads of the parents."16

Years ago the First Presidency stressed the importance of quality family time. They wrote:

"We call upon parents to devote their best efforts to the teaching and rearing of their children in gospel principles which will keep them close to the Church. The home is the basis of a righteous life, and no other instrumentality can take its place or fulfill its essential functions in carrying forward this God-given responsibility.

"We counsel parents an

d children to give highest priority to family prayer, family home evening, gospel study and instruction, and wholesome family activities. However worthy and appropriate other demands or activities may be, they must not be permitted to displace the divinely-appointed duties that only parents and families can adequately perform."
So, I started thinking about how I'm sharing the gospel with my son. We have family home evening every week, but we haven't always made the activities really age appropriate. So, I'm going to start coming up with and sharing my age appropriate activities with others who are struggling with the same thing. If you want to use my ideas, please do. That's why I share them. If you want to share them with others, please just give me the credit.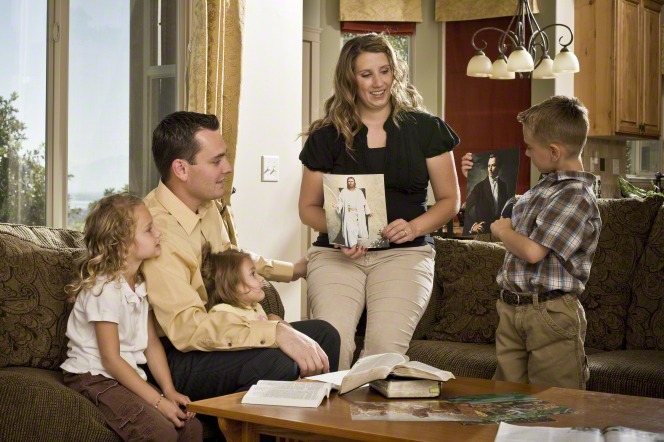 Anyway, I truly believe it is important to share the gospel with our children. Firm foundations must begin when the house is being built. If we wait until it is already erected, it is super difficult and tragedy may strike while we attempt it. There are a lot of resources out there to help us, if we take the time to look for them. Hopefully I can shorten the research for someone who is busier than I am.
I'll try to put up a new activity at least once a week.
Here's the first week's
link
!