I love my current callings.
I am the senior primary chorister. Which essentially means that I teach music to kids from age 8-11. It is a really fun calling, though I usually run out of time before I finish the lesson.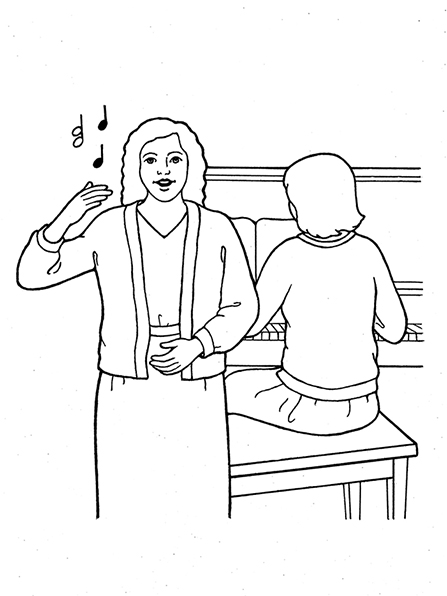 This last week for Father's day, we had a review of the songs that we had learned so far this year. I taped safety pins to fish that the other chorister had made. Then I took our half of a pool stick, tied yarn to it, and then attached our key-magnet to it.
Then, we went fishing. Each of the fish had a number on the back that either correlated to a song, or it let them pick any song they wanted to sing.
The activity went really well. The kids seemed to enjoy it, and my fishing pole worked great.
The Spirit was really strong during some of the songs as the kids sung their very best in the hopes that they would be the next one picked to fish.
My other calling is that I am on the Relief Society activity committee. That means that I help plan activities for the women in our ward. The head of our committee is pretty awesome, and she is getting really good at delegating.
The nice thing about having these two callings, is that I am getting to know the kids and the women in our ward. Since we're still fairly new (we've only been here for four months), it is a great way for me to make friends and get to know people.
We are in a wonderful ward, and I really feel at home here. They seem really supportive and friendly.
Last Saturday, Grig was trying to do one of his callings, which is to be in charge of making sure the church gets cleaned. Every ward switches off, and so he only has to do this calling every third month or so.
As with all things in the Church of Jesus Christ of Latter-day Saints, it is strictly volunteer. He had asked a few people to come and help, but it was a difficult Saturday for many people, and we weren't sure who, if anyone, was going to come.
Friday night, we prayed that people would come and help us so that we wouldn't have to clean all day.
Saturday morning, we had a few people come, and we were grateful for their help. However, an hour and half after Grig had started, another large family showed up that we weren't expecting, and some kids who were practicing for a play came and joined us in cleaning as well. With the extra help, the cleaning was concluded in another half an hour.
I was about to leave when they came (I had a previous appointment), but it was good I hadn't yet, because the new family only spoke Spanish, so I was able to talk to them and explain what they were supposed to do before I had to leave.
We are so grateful to those who came to help, and to the Lord for inspiring more to come.
It is amazing how much help the Lord gives us when we sacrifice our time to do what He has asked us to do. I love being able to serve. It helps me to be like Christ every day of the week, instead of just on Sunday.